4/13/16 - 2016 is the year of RUDY RAY MOORE. This will likely be the most active year relating to Moore since his passing. It's just a testament to the legacy he has left and his material continues to grow in popularity!
If you haven't yet heard, DOLEMITE, THE HUMAN TORNADO, PETEY WHEATSTRAW and DISCO GODFATHER are all being remastered in high definition for release on Blu-Ray/DVD combo packs by Vinegar Syndrome. Each release will feature a slew of incredible extras and these will be THE LAST WORD on these titles. You would definitely be a rat soup eatin' muthafukka if you don't pick up all of these releases!
DOLEMITE is scheduled for release on 4/26/16 and here are the full details of the release:

Dolemite (Rudy Ray Moore), the baddest pimp in town, has just been released from prison, ready to take revenge on notorious gangster Willie Green (D'Urville Martin), who set him up on a phony drug charge and stole his club, The Total Experience.
With the help of his friend Queen Bee (Lady Reed) and their band of Kung Fu fighting vixens, Dolemite takes on every "rat soup eatin' motherf#%*er" in South Central.
Acclaimed comedian Rudy Ray Moore's outrageously funny and action packed blaxploitation classic, makes its worldwide blu-ray debut, fully restored in 2k from a recently discovered 35mm negative and loaded with extras, including a new making-of documentary by Elijah Drenner and a historical commentary track from Moore's biographer Mark Murray, featuring interviews with Moore as well as co-stars Jerry Jones, Lady Reed, John Kerry, cinematographer Nick Von Sternberg and more!
Directed by: D'Urville Martin
1975 / 90 minutes / Color / 1.85:1 & 1.33:1
Actors: Rudy Ray Moore, D'Urville Martin, Lady Reed, Jerry Jones
Features Include:
• Region free Blu-ray and DVD combo pack.
• All extras on both formats.
• Scanned and restored in 2k from a newly discovered 35mm negative.
• Includes two framing options: the intended 1.85:1 widescreen version and an alternate full frame 'boom mic' version.
• "I, Dolemite" making-of documentary.
• "Lady Reed Uncut" featurette.
• "Locations: Then & Now" featurette.
• Historical commentary track by Rudy Ray Moore's biographer, Mark Jason Murray.
• DOLEMITE – theatrical trailer.
• THE HUMAN TORNADO – theatrical trailer.
• Original cover artwork by Jay Shaw.
• Reversible cover artwork.
• English SDH Subtitles.
The remainder of Moore's films will be released over the next 3 months. Be sure and follow the Rudy Ray Moore facebook page to be kept up to date!
Fans were treated to a world premier of the new remastered version of DOLEMITE on Friday 4/8/165 at the Egyptian Theater in Los Angeles, CA which included a great Q&A session with cast and crew!

---
2/15/16 - It's been a while since we have updated the site but we hope you are keeping up with the official facebook page (feed on the right) which is updated several times a week with news and info.
There is actually quite a bit going on relating to Moore so here's a big update....
Several links have been updated in the merchandise section.
Not available commercially since it's release in 1979, check out Rudy's Disco Godfather (Original Motion Picture Soundtrack), available now!
I'll take some credit here where it's due!!! This is one funky disco soundtrack for sure. I spent some time remastering these tracks to provide the best possible release. Outside of that I created new cover artwork, made a original audio trailer for the film editing together bits and pieces of trailer out-take narrations for the film by Moore and even included on-the-set audio for fans to hear Moore behind the scenes delivering lines and what one would hear while being on the set of the film!
This is definitely a release that one could "Put your weight on!" to paraphrase Moore in the film! Check out samples on your right!
There is some talk of more audio releases this year as well and I will let you know when that happens.
The biggest news of 2016 is that DOLEMITE, THE HUMAN TORNADO, PETEY WHEATSTRAW and DISCO GODFATHER are all coming to Blu-ray! Finally, for the first time EVER will all of Moore's 1970's productions be presented in high definition restorations in their original and proper aspect ratios! No more junky full frame editions. This will be the best the films will likely ever look and this is truly something for fans to be excited about. I am heavily involved in these releases and am working to make them the best that they can be. As of this update, DOLEMITE is scheduled to be available in April with the rest to follow throughout the end of the year.
There's even another high profile project coming this Summer that will be announced soon.
As for my book on the life and career of Rudy Ray Moore... it's still coming.. hopefully by the end of 2016 or early 2017. Once I finish up these other projects relating to Moore, I can get back to focusing on the completion of the book. I've actually been waiting for a year like this for some time now and it's the perfect time to unleash the book.
Keep your eyes on the facebook page for more updates and info!
---
12/8/12 - RIP Jerry Jones. It is with deep sadness and teary eyes that I report the passing of Jerry Jones just after 9 am on Sunday November 18, 2012 at the age of 85. Jerry is most well known for appearing in and writing the scripts for Rudy Ray Moore's films DOLEMITE and THE HUMAN TORNADO and deserves credit for helping to make those films what they are both on screen and behind the scenes. My wife and I would visit Jerry frequently whenever we were in Southern California and it pains me to know that he and I won't be able to talk about his upcoming projects and reminisce about his past. Born in Arkansas but raised in Chicago, Jones has done just about everything; tap dancer, model, actor, author (the biography '2 Gun Pete') screenwriter (Dolemite, Human Tornado and several more not yet filmed), playwright (over 40), pimp, acting teacher, night club owner, devoted Buddhist (of over 50 years) and father. I first made contact with Jerry in 2001 as we discussed his work with Rudy Ray Moore for my eventual biography on Moore. We kept in touch off and on for many years although over the last 3 years our contact was frequent as we discussed ways to get various projects of his off and running but Jerry's health had been giving him issues for the last few years. Unfortunately, the fight had left him when he told a close friend at bedside, "I'm ready to go to another world." It's difficult when one goes from being just a fan of someone's work to becoming a friend… but Jerry's legacy will continue to live on through that work along with his spirit in my memories of our friendship.
My wife and I attended Jerry's memorial on 12/1/12 in Los Angeles, CA. and I was honored to speak there in the presence of his friends and family. Your creativity and spirit will never die, Jerry, and your tremendous influence on people's lives was shared by many. We honored his life and dedictation to his craft and buddhism, vowed to continue efforts to give life to his many projects and laughed and cried. Take care my friend.
This was the last time I visited Jerry, in April 2012. We stopped by to say hello, chat for a bit and give him a DOLEMITE bobblehead. My wife and I had a small tradition of hitting up the FATBURGER across from his place before the long drive back to Northern California. We will miss you Jerry but your spirit will never die!
I don't have a lot of time to update this site as much as I would like to, but the official FACEBOOK page is updated several times a week so head over there to get your dose of Rudy Ray Moore and what is going on here with the book project, my continuously growing Rudy Ray Moore archives and more. Check out the Facebook feed box on the right too!!!!
---
3/18/2012 - The official Rudy Ray Moore is DOLEMITE "Weird Wobbler" Bobblehead figure is available now!!!!! ORDER HERE! Check out this incredible video showing you just how amazing this figure really is!
Yesterday was Rudy Ray Moore's birthday and I hope you took some time to honor his memory!
There's a new CD coming your way on 3/27/2012. RUDY RAY MOORE'S FILTHY BEST! Check it out in the merchandise section!
Fans of Rudy Ray Moore's raw style of comedy should love the releases coming from Cult Collectibles as part of the OLD SCHOOL COMEDY CLASSICS line of resissues to CD and digital download! With planned monthly releases starting in April be on the look out for material by Rudy's long time friend, Jimmy Lynch, Redd Foxx, Skillet & Leroy (who appeared in PETEY WHEATSTRAW: THE DEVIL'S SON IN LAW) and many more. Here's a sample from the first three releases:

And speaking of Jimmy Lynch... The Funky Tramp is back in action so be sure and check out his official website and give Jimmy some much deserved love!!! WWW.FUNKYTRAMP.COM

---
12/7/11 - The Rudy Ray Moore is DOLEMITE "Weird Wobbler" bobblehead is coming in March 2012! Preorder now!
HERE'S THE PRESS RELEASE & DETAILS!!
Cult Collectibles in association with Donald H. Randell / Dolemite Records are proud to announce the release of the Official "Rudy Ray Moore is DOLEMITE" "Weird Wobbler" bobblehead figure.
Known as "The King of The Party Records" and "The Godfather of Rap", Rudy Ray Moore is an immeasurably influential legend for his groundbreaking comedy albums and films. In the course of a lifelong career in entertainment, Moore released nearly three dozen comedy and vocal albums along with a handful of legendary films (DOLEMITE, HUMAN TORNADO, PETEY WHEATSTRAW: THE DEVIL'S SON IN LAW, DISCO GODFATHER, etc.) which have sold into the millions. Moore's most famous character, "Dolemite", is so well known it has been referenced in hundreds of hip-hop/rap songs and spoofed on such major television shows as MadTV, The Tonight Show with Jay Leno and Saturday Night Live. Rapper Snoop Dogg even stated, "Without Rudy Ray Moore, there would be no Snoop Dogg, and that's for real!"
Cult Collectibles' owner, Mark Jason Murray, worked with Rudy Ray Moore in various capacities for over 15 years and continues to work hard in efforts to keep his legacy alive after his passing in 2008. Outside of operating Moore's only official website since 1997 (www.rudyraymoore.com), Murray was granted authorization by Moore to write his official biography, a project over a decade in the making. "Rudy was not only my 'idol', he was my friend and I have always felt he never achieved the success and recognition that he not only wanted so badly for himself, but genuinely deserved," states Murray. "I continue to dig deeply into Moore's life and career and look forward to being able to present this book when completed. Doing a bobblehead figure of Rudy was the main motivator for me to start this company and I am happy that it has become a reality. It's just another way for me to honor him and his work and also give his fans something special that they can enjoy as well."
Moore's manager, Donald H. Randell of Dolemite Records, continues to work in all areas relating to Moore's legacy. "A Rudy Ray Moore bobblehead is something long overdue! Moore continues to be a source of inspiration for so many comedians, musicians, filmmakers and fans and this is something to help keep that inspirational spirit alive!"
Cult Collectibles has quickly become known for its high quality bobblehead figures which frequently push the limits of the format. "I want every figure I create to really stand out," states Murray, "and I also wanted this figure to be special and something his fans would really love." Moore is dressed in a highly stylized "pimp" outfit and ready to launch himself off a rock encrusted base which features his name and "Dolemite" logo bursting from below his feet. "It wasn't enough for me to just have his head be able to move so his right arm is connected by a spring, enabling it to throw a punch. I obsess over details and even made sure his pants were creased properly." As if that wasn't enough to please fans, the figure also includes a free double sided Rudy Ray Moore drink coaster stating "Put Your Drink On It!" (a takeoff of his famous phrase "Put Your Weight On It!")
Pre-orders are available now with figures shipping at the beginning of March 2012, just in time to celebrate the first annual "DOLEMITE DAY" (March 17, Moore's birthday)
PRODUCT DETAILS:
-Limited edition of 1,000 individually numbered figures
-7 inches of lightweight polyresin
-Spring activated arm enables "Bone-crushing, Skull-splitting, Brain-blasting" punching action!
-Includes exclusive full color, double sided drink coaster! "Put your drink on it!"
-Housed in a awesome full color retail box
-Special exclusive RUDY RAY MOORE trading card available ONLY during pre-order period from Cult Collectibles!
ORDER NOW AT CULT COLLECTIBLES!!!
---
1/28/11 - Check out the official Rudy Ray Moore facebook page throughout the month of February as we celebrate BLACK (COMEDIAN) HISTORY MONTH!
---
1/27/11 - Rudy Ray Moore's old friend and associate Jerry Jones (writer of DOLEMITE, HUMAN TORNADO and actor in DOLEMITE, HUMAN TORNADO, DISCO GODFATHER and DOLEMITE EXPLOSION) has new engagements of his award winning musical / play, CHICAGO CLUB RUMBOOGIE coming February 4-6 in Southern California. I will be there... will you? Visit the website for full details!
---
1/3/11 - HAPPY NEW YEAR! And we are starting off the new year with some great announcements!
Coming in late 2011! The official Rudy Ray Moore is DOLEMITE "Weird Wobbler" bobblehead! Here's the press release from Cult Collectibles:
Cult Collectibles in association with Donald H. Randell and www.Dolemiterecords.com are proud to announce the upcoming release of the Official "Rudy Ray Moore is DOLEMITE" "Weird Wobbler" bobblehead figure.
Cult Collectibles' owner, Mark Jason Murray, worked with the legendary influential comedian and filmmaker, Rudy Ray Moore in various capacities for over 15 years and continues to work hard in efforts to keep his legacy alive after his passing. Outside of operating Moore's only official website since 1997 (www.rudyraymoore.com), Murray was granted authorization by Moore to write his official biography, a project over a decade in the making. "Rudy was not only my "idol", he was my friend and I have always felt he never achieved the success and recognition that he not only wanted so badly for himself, but genuinely deserved," states Murray. "I continue to dig deeply into Moore's life and career and look forward to being able to present this book when completed. Doing a bobblehead figure of Rudy was the main motivator for me to start this company and I am happy that it will become a reality soon. It's just another way for me to honor him and his work and give his fans something special that they can enjoy as well."
Moore's manager, Donald H. Randell of Dolemite Records, continues to work in all areas relating to Moore's legacy. "A Rudy Ray Moore bobblehead is something long overdue! Moore continues to be a source of inspiration for so many comedians, musicians, filmmakers and fans and this is something to help keep that inspirational spirit alive!"
The figure is currently being designed with a projected release date late 2011. More details will be posted to www.cultcollectibles.com as they become available.
Rudy Ray Moore is DOLEMITE "Weird Wobbler" bobblehead figure details:
(FURTHER DETAILS / OFFICIAL RELEASE DATE STILL TO BE DETERMINED)
-Limited edition of 1,000 individually numbered figures
-7 inches of lightweight polyresin
-housed in a full color retail box
-Special exclusive DOLEMITE trading card available ONLY during pre-order period through www.cultcollectibles.com
CULT COLLECTIBLES quickly has established itself as a creator of high quality collectible products that fans greatly enjoy. The first two "Weird Wobbler" bobblehead figures, BLACK DEVIL DOLL and DEMON DOLL have already been great successes. 2011 promises even more success with these upcoming figures:
The "head wound girl" from Lucio Fulci's THE BEYOND (in association with GRINDHOUSE RELEASING)
Legendary Italian horror director and fan favorite, Lucio Fulci from his film CAT IN THE BRAIN (in association with GRINDHOUSE RELEASING)
Rudy Ray Moore is DOLEMITE (in association with www.dolemiterecords.com)
For more information on Cult Collectibles visit: www.cultcollectibles.com
For more information on Dolemite Records visit: www.dolemiterecords.com
For more information on Rudy Ray Moore visit: www.rudyraymoore.com
NEW CD! Just released is a new 14 song CD of Moore belting out many of his classic RnR/R&B tracks from the 50's and 60's, live in New York at Wetlands in 2000. There's some truly great material here as Moore proves he still has his singing voice delivering songs he hadn't performed in nearly 50 years! Hear him bust out some jokes and classic routines and even insult people in the crowd as only Rudy Ray Moore can do! Moore is joined by a full band conducted and emcee'd by long time friend, Jimmy Lynch. This CD gives you a extended look into his performances that were captured on the RUDY RAY MOORE: LIVE AT WETLANDS DVD and this audio material has remained unreleased until this time! Click here and get it now!!!
Here's the full track listing:
Intro / Put Me In The Mix
Hully Gully Papa
Rudy Raps #1
Need To Belong
Hurts Me To My Heart
Ready Willin' And Able
Bring It On Home To Me
Angels On Earth
Scratch My Back
That's Why I'm Your Fool
Rudy Raps #2
So Good to Me
Hully Gully Fever
Do You Call That A Buddy / Signifying Monkey
Moore's 70's singing album, THE TURNING POINT, was recently reissued to vinyl by Scorpio Music from New Jersey. This release faithfully recreates the original pressing so if you are a serious collector seeking the original (and often expensive) pressing, do some additional research on the item before purchasing. It appears that this is being distributed direct to retailers and that Scorpio does not have a direct ordering option.
On October 31, 2010, I finally was able to meet with Ernie Hudson face to face. The star of such notable films as GHOSTBUSTERS, LEVIATHAN, THE HAND THAT ROCKS THE CRADLE and over a hundred other credits made his second film appearance in Rudy Ray Moore's 1976 film THE HUMAN TORNADO. Hudson was one of my first supporters and interview subjects for my RRM biography project and is really a great down to earth guy.
CHICAGO CLUB RUMBOOGIE!! In other related news, DOLEMITE and HUMAN TORNADO screenwriter/actor Jerry Jones is making great strides with his award winning musical play, CHICAGO CLUB RUMBOOGIE! After recently receiving a NAACP Theatre Award, the play has gathered further interest and support. Jones and crew want to take this play all the way to Broadway and they have upcoming performances scheduled for early February in Southern California. I am hoping to make it down for the event and hope that others will as well. You can visit the CHICAGO CLUB RUMBOOGIE website for more information!
---
9/22/10 - HUMAN TORNADO on the big screen! If you live in Southern California here's your chance to check out 18 classic films from the 70's including such hits as COFFY, SUPER FLY, SHAFT, COOLEY HIGH, BLACULA and many many more in a film festival happening throughout October at UCLA! THE HUMAN TORNADO plays on a double bill with Jamaa Fanaka's EMMA MAE on Friday, October 22.
Here's some info: "Presented in association with The Pan African Film and Arts Festival, The Ralph J. Bunche Center for African American Studies at UCLA, and the Interdepartmental Program in Afro American Studies at UCLA.

PAINT IT BLACK: REVISITING BLAXPLOITATION AND AFRICAN AMERICAN CINEMA OF THE 1970S
The explosion of hip-talking, eroticized and often-violent urban films that burst onto American screens in the early 1970s, gave rise to a new generation of black actors, writers and directors. The predominant trend was termed "Blaxploitation" by its most ardent critics who lamented its unhealthy focus on pimps, pushers and prostitutes. Yet African American film culture of the 1970s was far more varied than the term Blaxploitation suggests and spanned multiple genres, including comedy, horror, westerns, melodrama and contemporary drama. Whether embracing or rejecting Blaxploitation, writers and directors nonetheless had to grapple with the pervasiveness of the genre's popular image. In recent years, scholars, critics, and filmmakers have revisited the 1970s black film boom, investigating its inherent contradictions—films that featured strong African American heroes who actually won against their oppressors yet arguably perpetuated racial stereotypes. Despite the controversy, these films are marked by a distinct political and cultural force that remains relevant to this day.
Click here for more info and to purchase tickets for screenings! Don't miss this chance to see some of these films on the screen!!!
---
9/19/10 - This site now has a official facebook page so check it out!!!! We have added it as a extension of this site and to share more materials and information. Join up and share in the fun.
---
9/14/10 - Out today is the new 8 DVD box set DOLEMITE: THE TOTAL EXPERIENCE. Our contest winner is Gregory Lewis from Portland, OR. He had the correct answer to the trivia question:
Q: What is the name of the man who played "Creeper" (aka "The Hamburger Pimp") in DOLEMITE?
A: Veinus Rackstraw.
Watch for your box set to arrive shortly. You can also support this site and purchase it here!
---
9/6/10 - Huge congratulations to Jerry Jones and his cast and crew for their recent win at the 2010 NAACP Theatre Awards for "Best Sound Design" in a local production for the musical play "Chicago Club Rumboogie". With his spirits high, Jones is looking to take this project further and momentum is definitely building! Jones has a arsenal of plays and film scripts and several individuals, including myself, are working hard to make things happen with his material.
DOLEMITE: THE TOTAL EXPERIENCE DVD BOX SET CONTEST!!!! In conjunction with Xenon Entertainment, we are giving away 1 copy of the new 8 DVD box set which will be released 9/14/10. This contest is available for US residents and 1 winner will be picked randomly who can answer the following trivia question:
Q: What is the name of the man who played "Creeper" (aka "The Hamburger Pimp") in DOLEMITE?
Please send your answer along with your name and full mailing address here! A winner will be picked and announced on 9/14 so put your weight on it!!!
---
8/6/10

- A newly issued 8 DVD box set of Moore's films, titled DOLEMITE: TOTAL EXPERIENCE, will be available September 14, 2010. Complete details are not yet available but with what little information that I have gathered from my sources, it appears as though Xenon Entertainment is simply repackaging Moore's previous box set to also include his final unreleased film, THE DOLEMITE EXPLOSION, which is not being offered seperately forcing fans to pay a greater price for the opportunity to see one film. I had contacted Xenon in the past about offering up my services to do extensive bonus features for Moore's films but received no replies. I will post complete information on this when I have it. Who knows... one of these days I might just make my own bonus features (commentaries by myself along with cast & crew, interviews, etc.) and market them myself as companion pieces to each film. Someone needs to pay proper tribute to these films and if anyone is capable of doing it... it's me... I know first hand that a great deal of Moore's associates and celebrity fans would love to be involved with something of this nature as well. Hmmmm.... Now if I could find the time to make this happen and someone to finance a bit of it.. any takers?
ORDER IT NOW!
---
8/4/10 - A HUGE CONGRATULATIONS to DOLEMITE / HUMAN TORNADO scriptwriter, actor and Rudy Ray Moore associate, Jerry Jones and the cast and crew of his award winning musical/play CHICAGO CLUB RUMBOOGIE for garnering 3 nominations (Best Choreography, Best Director and Best sound in the local catagories) at this year's NAACP Theatre Awards! Jones will walk the red carpet and be honored for his play on August 30, 2010 in Hollywood, CA. Best of luck to Jones and his associates. For more information click here!
The Chicago Club Rumboogie Promo 2009 "The promo for the hit play, THE CHICAGO CLUB RUMBOOGIE by Jerry Jones. The story of how the famous club survived and thrived in the 40's and 50's despite resistance from neighboring Mafia-run clubs."
---
7/15/10

Coming 10/12/10! BLACK DOLEMITE! THE BEST OF RUDY RAY MOORE LIVE! to DVD. Over an hour of rare live footage of Moore doing his thing LIVE on stage. Fans won't want to miss this one. I wrote liner notes for this several months back so it is great to see that it is finally coming out. ORDER NOW!!!!
DOLEMITE EXPLOSION! Moore's friend and associate Jimmy Lynch is the owner of this film and in a conversation with him yesterday, he stated that this is coming out finally to DVD, apparently as part of a new DVD box set of Moore's films. No further details are available but hold tight! I will let you know what I know, when I know it.
If that wasn't enough great news for you, I have been going through transfers of hours and hours of audio masters from Moore's archives and have discovered a great deal of interesting and unreleased comedy and vocal material! Perhaps we will be seeing new releases of unheard material from Moore's archives at some point.
So hold onto your seats, and hold onto them tight! Cuz there's more stuff on the way from Rudy Ray Moore... aka DOLEMITE!
---
7/14/10 What would a compilation of the greatest movie insults be without RUDY RAY MOORE? Check out Moore at the one minute mark, you rat soup eatin' muthafukka!
More exciting news coming soon!
---
5/6/10

ATTENTION FILMMAKERS!!! Jerry Jones, screenwriter of the legendary Rudy Ray Moore films: DOLEMITE and HUMAN TORNADO has two new and incredibly action packed scripts available now!
"CHICAGO'S TWO-GUN PETE" is based on Jones' own biography of Sylvester Washington (aka "Two-Gun Pete"), Chicago's real life "Dirty Harry".
Jones states, "I have been asked by many, "Why write about such a cruel, cold-blooded man like Pete?" And many answers came to mind, but the first was, "Why not? No one else has." And, secondly, he was someone to write about. After all, he frightened the hell out of half the population on the south and west sides of the city of Chicago. I know, because I was one of them.
His name was broadcast from the U.S. to Vietnam among the G.I's. He was a celebrity in his own right, at least he carried himself like one. He loved beautiful women, models, dancers and actresses. And can you imagine a police officer sporting around in a Cadillac, on duty!! Some folks said he was like a ghost, or a bad dream that made you happy to wake up. Others said he was a Saint that always showed up in the nick of time. I can certainly say he was good for that period of time. He made many neighborhoods a safe place to live.
His notorious way of making dope pushers and prostitutes surrender was his two 357 mags that he carried on his side. He also kept the hospitals busy on weekends patching up the busted heads and bruised behinds of the thugs that terrorized the city. He was one of the baddest and meanest black cops I have ever known in my lifetime... and most likely the next!!"
CHICAGO CLUB RUMBOOGIE: Jones is also a notable playwright and producer and his musical play "Chicago Club Rumboogie", also based around "Two-Gun Pete", has received tremendous reviews and praise and Jones is interested in getting the play made into a feature film.
Legendary recording artist and producer, Quincy Jones stated, "Jerry Jones' play took me back. I saw Two-Gun Pete kill a guy in cold blood in front of Walgreens Drug Store in Chicago! Great Play!"
"The Chicago Club Rumboogie is a play that takes place around the late forties through the fifties, when blues, jazz and swing were the thing. You will be introduced to a time when the Italian mob and the Black rackets' big time club action and money lending were taking place, with death to follow if you didn't pay back on time. This play is about Black and Italian gangsters and mob bosses in the 1940s when bullets would ring and jazz blues and swing was the thing. You will be introduced to the most feared cop in Chicago's history, Sylvester Washington, better known throughout the city and around the country as the legendary "Two-Gun Pete," as well as be acquainted with the great artist Dinah Washington."
Also available from Jones is the incredible script "The Ghost of Stackolee", a project that Rudy Ray Moore showed tremendous interest in starring in, yet it unfortunately never materialized as it could have been a huge success for both Jones and Moore.
Jones has several other properties available as well. Interested producers or investors please get in touch!
---
5/4/10

OUT TODAY!!!! Traffic Entertainment releases a double CD reissue of the legendary soundtrack to DOLEMITE, sourced from original master tapes and featuring a whole slew of never-before-heard rare bonus tracks, studio outtakes and much more. ORDER IT NOW in our merchandise section!
We will have news soon on the upcoming BLACK DOLEMITE DVD featuring amazing footage of Moore doin' his thang live throughout the 1990's. My liner notes were recently completed for this as well and it's a great disc that fans should love.
There's a great deal of things going on behind the scenes in relation to Rudy Ray Moore and we will provide more updates soon so keep your eyes on this site! PUT YOUR WEIGHT ON IT!
---
4/10/10

We recently spoke with Arledge Armenaki, about his work as cinematographer on DISCO GODFATHER. Arledge has remained busy in film ever since working on that film in 1979, having gone on to shoot such notable films as DEATH SPA, HOWLING 5, THE SLAYER, DENNIS THE MENACE and several others. He divides his time between filmmaking and teaching cinematography at Western Carolina University. His latest feature film project, WESLEY, recently had its premier. Be sure to check out the film's official website for more information and trailer along with Arledge's homepage.
---
3/24/10
I had the pleasure to meet and speak with Clarence Reid, aka BLOWFLY, last night and talk about his career and his memories / experiences with Rudy Ray Moore. Being a tremendous fan of Reid's work, I asked to take a photo with him. "Let's do somethin' fucked up!" he said. So here I am sitting on the original dirty rapper's knee as we show some love. Also, here's a shot of Reid performing on 3/23/10 in Sacramento, CA.
Clarence and Rudy go back to 1969 and toured the country in 1982-1983 as part of the "Watch It Sucka Review" along with LaWanda Page and Wildman Steve. Blowfly has been busy with a brand new documentary and current West Coast tour. Check him out on these dates if you are in these areas (check your local listings for more details):
3/24 - Arcata, CA
3/25 - Portland, OR
3/26 - Seattle, WA
3/27 - Tacoma, WA
3/30 - Vancouver, BC, Canada
4/1 - San Jose, CA (w/ FANG)
4/3 - Metro, Oakland, CA (All-star funk jam, Blowfly, Clarence Reid, Lakeside, Ozone)
4/4 - Alex's Bar, Long Beach, CA.
Here's the trailer for the documentary, THE WEIRD WORLD OF BLOWFLY
---
3/20/10
Just shortly after Moore's passing, London, England's DUKE MITCHELL FILM CLUB paid tribute to the films of Rudy Ray Moore in November of 2008.
---
On February 27th, 2010, I had the pleasure of meeting LEGENDARY saxophone player Big Jay McNeely, who put on one hell of a show. Moore had performed on bills with Big Jay in Cleveland, Ohio and the legendary Birdland club in Seattle, Washington during the early 1950's. Big Jay was the one who suggested that Moore get himself on record and helped steer him to Ralph Bass of Federal Records where Moore released his first 45's in the mid-1950's. Big Jay's brother, Bobby McNeely played saxophone on Moore's first couple of singles.
---
3/10/10
RUDY RAY MOORE'S BIRTHDAY IS COMING UP! March 17 would have been Moore's 83rd birthday. Be sure and celebrate his memory!!!! We will be here for sure! Rudy, you are missed my friend but your memory and legacy will never die. Enjoy this clip of Moore's triumphant appearance on THE ARSENIO HALL SHOW!

RUDY RAY MOORE GETS A NOD IN OSCAR WINNER'S SPEACH! Congratulations to Academy Award winning editor, Bob Murawski, long time genre film fan and dedicated co-owner of GRINDHOUSE RELEASING. Bob is a big fan of Rudy Ray Moore and gives thanks to Moore in a post Oscars thank you speach!
---
3/6/10

Ben Taylor, longtime friend / associate to Rudy Ray Moore and writer / singer of the legendary theme from DOLEMITE has been very busy and is set to unleash his first full length gospel album, entitled "My Soul Says Yes" through Highly Favored Music via Universal records later this year. We will keep you posted on the status of the project. Ben has been very helpful with my Rudy Ray Moore biography and his support is greatly appreciated. To get a taste of Ben doing his thing, check out his cameo in the beginning of THE HUMAN TORNADO where Ben and his combo blast out a great track "I Wanna Do It To You".
---
2/22/10

DISCO GODFATHER ON THE BIG SCREEN! Tuesday • February 23rd, 2010
Eric Caidin and Brian Quinn with Grindhouse Releasing present The Grindhouse Film Festival
New Beverly Cinema
7165 Beverly Boulevard
Los Angeles, CA 90036
(323) 938-4038
Admission: $8.00
Black History Month Event!
Special Guest: Jamaa Fanaka
Additional guests to be announced
7:30pm
PENITENTIARY III (1987)
Directed by Jamaa Fanaka
Starring Leon Isaac Kennedy, Anthony Geary, Steve Antin, Ric Mancini, Marie Burrell Fanaka and The Haiti Kid

10:00pm
DISCO GODFATHER (1979)
Directed by J. Robert Wagoner
Starring Rudy Ray Moore, Carol Speed, Jimmy Lynch, Jerry Jones and Lady Ree
---
2/15/10

RUDY RAY MOORE BIOGRAPHY
No more setbacks... This is the year that significant work gets completed on my Rudy Ray Moore biography, with work being done nearly every day. A decade worth of notes and materials are being sorted through, old contacts are being rekindled and new contacts are being made along with new discoveries and revelations which will all be a part of this huge project. Updates will be posted periodically. If you are someone who thinks you can help with the project please get in touch.
BLACK DYNAMITE hits the streets tomorrow!
Be sure and pick up one of the coolest movies in a long long time..... and that's not just because it pays major tribute to the films of Rudy Ray Moore... BLACK DYNAMITE!

"When drug dealers take out his kid brother, ex-CIA agent Black Dynamite (Spawn's Michael Jai White) makes like a karate-chopping dynamo to track them down. Armed with a .44 Magnum, a set of nunchucks, and a sexy 'stache, Big D starts out in the City of Angels, where his buddies Cream Corn (In Living Color's Tommy Davidson), a hustler, and Bullhorn (co-writer Byron Minns), a club owner, offer to lend a hand. The deeper Dynamite digs, the more endangered his life becomes as he uncovers a conspiracy to keep the black man down by flooding the streets with malt liquor and filling the country's orphanages with smack. Since the smooth operator has a way with the ladies, he also enlists Gloria (I Am Legend's Salli Richardson-Whitfield), a socially-conscious soul sister, to aid in his clean-up campaign. Director Scott Sanders and White, who co-wrote the script, collaborated on 1998's Thick as Thieves, and their chemistry shines through. If the supporting cast can be a little wooden, White gives Shaft's Richard Roundtree a run for the money with his cool-cat charisma. Set in 1972, Black Dynamite doesn't just act like a movie from the Superfly era, it looks and sounds like one, too, courtesy Adrian Younge's old-school funk score, Shawn Maurer's 16mm cinematography, a cartoon credit sequence, and some carefully choreographed boom mic appearances. And dig those crazy cameos: Arsenio Hall as Tasty Freeze, Brian McKnight as Sweet Meat, and NBA veteran John Salley as Kotex.
Click on your preferred format to purchase and help support rudyraymoore.com. DVD or BLU-RAY are available and don't forget about the funky soundtrack CD as well.
OTHER NEWS:
Check out FILMRAGE magazine and Vol. 2 issue #4 which features a look at THE HUMAN TORNADO. Their upcoming issue will be available in a few months and will feature coverage on DOLEMITE and perhaps an article by myself as well.
Also, Rudy Ray Moore's spirit and character Dolemite continue to influence all types of entertainment. Extreme music fans are encouraged to check out THE DOLEMITE PROJECT, a Southern California grindcore band.
I also want to give thanks to an old friend, Chuck Kelley, for his assistance finding several locations from Moore's films. Chuck also happens to be the GM of LUXURIA MUSIC, a killer internet radio station that plays all types of wild, wacky and cool music. Be sure and check them out.
Finally, be sure and check out fellow comedian and long time friend of Moore, The Everloving Sister Quintella Caldwell.
---
1/26/10
Links to purchase products have been updated in the merchandise area along with individual pages within the Albums catagory.
---
1/7/10
Happy New Year from Rudyraymoore.com! We hope that 2010 brings you more Rudy Ray Moore than ever before! To start off the new year, you can watch Moore in THE MONKEY HUSTLE right here!
---
11/1/09
RUDY RAY MOORE TRIBUTE at the Egyptian Theatre in Hollywood, CA. on 11/12/09
Thursday, November 12 – 7:30 PM
Larry Karaszewski Presents: A Salute to Rudy Ray Moore - Double Feature: DOLEMITE , 1975, Xenon, 90 min. Super soul brother, Dolemite (Rudy Ray Moore), aided by his squad of kung fu hookers, goes up against evil bad-ass Willie Green (D'Urville Martin, who also directed) in this low-budget classic. Peppered with Rudy's famous toasts, martial arts skills and just plain crazy plot twists, DOLEMITE must be seen to be believed. Trailer
PETEY WHEATSTRAW: THE DEVIL'S SON-IN-LAW, 1977, Xenon, 94 min. Dir. Cliff Roquemore. Star Rudy Ray Moore plays the title role in this blaxploitation classic. When Petey Wheatstraw dies, the devil offers him a chance to return to earth. The catch: Petey must marry the devil's daughter, the ugliest woman in the world. Costarring Wildman Steve.
Q&A between films with members of the cast/crew of DOLEMITE and the new film BLACK DYNAMITE - plus filmmaker Reginald Hudlin. Jerry Jones - "Dolemite" screenwriter and co-star, Nicholas Josef von Sternberg - "Dolemite" & "Petey Wheatstraw" cinematographer, Reginald Hudlin - writer director, producer - "House Party", "Bebe's Kids", "Boomerang", "The Ladies Man" and Scott Sanders - director/ writer of "Black Dynamite," Michael Jai White - star, writer of "Black Dynamite," Byron Minns - co-star, writer of "Black Dynamite." Clip
Visit the EGYPTIAN THEATRE website.
---
10/19/09
It's been 1 year since the passing of Rudy Ray Moore, yet his influence and legacy continues to thrive. There are some major things in the works that we hope to be able announce soon.
Be sure and check out the new film BLACK DYNAMITE which is playing in select cities across the US. The film is highly influenced by the works of Rudy Ray Moore and it's nice to see people acknowledge it.
---
8/6/09

Coming Sept 15, 2009 from Warrior Records! A new anthology CD covering 5 decades of Rudy Ray Moore's career from comedy to vocal performances! 50 YEARS OF CUSSING
"In 1959, comedian Rudy Ray Moore released his first album, "Below The Belt." Fifty years and over 30 albums later, Warrior Records celebrates his extensive comedic career with this retrospective GREATEST HITS package which contains a classic performance from each of Rudy's albums, over 30 tracks, including:
The Streaker, Hurts Me To My Heart, Flys Of The Watermelon, Dolemite, The Beatnick And The Mechanic, Sweet Peter Jeter, Driveway Blues, So Glad I Could Come, My Dumb Brother (Live), Hercules, Merry Chirstmas Baby, Kruschev-The Fashion Show, Sensuous Black Woman, Sensuous Black Man, The Great Pretender, Ripe Old Age (A Comedian Is Born), Blackorcist, Campaign Speech, Hot Nuts, Romeo And Juliet, Signifying Monkey, Rappin' Rudy, For Women (Close Encounters Of The Sex Kind), The Player, Only Here For A Little While
PLUS introductions by comedian Rodney Perry, Snoop Dogg, unreleased bonus tracks and more!!!
This is available for pre-order now through our merchandise section!
---
Be sure and check out the DOLEMITE RECORDS page on YOU TUBE with lots of great video material by and about Rudy Ray Moore. Check it out here!
---
Currently in production is a new "Best of Rudy Ray Moore" DVD featuring rare and unseen performances along with other footage of "the King" doing his thing. More details will be posted soon.
---
We are also excited to announce the release of the full soundtrack to Moore's DOLEMITE follow-up THE HUMAN TORNADO available for the FIRST TIME EVER in any format! This will be available August 18th, 2009 through Traffic Entertainment.
This is available for pre-order now through our merchandise section!
Featuring a total of 39 tracks, including full length takes, 45 versions and alternate takes from the film. This will prove to be a must have item for fans of the film and an amazing addition to anyones Rudy Ray Moore collection.
---
7/13/09
Check out this hilarious review of DOLEMITE on Funtimeinternet.com. Although they dislike the movie for many of the reasons we all love it, I think fans will get a solid laugh out of their article.
In other related news, Sonya Bernard-Hollins, has released the 5th Anniversary edition of her book, HERE I STAND, which covers many entertainment legends who got their start in Battle Creek, Michigan and there's a chapter on Rudy's long time friend, Jimmy Lynch. Order the book here!
---
5/24/09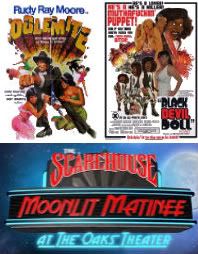 Friday July 24 and Saturday July 25: Dolemite (1975) / Black Devil Doll (2008)

Double Feature! Black Devil Doll filmmakers Jon & Shawn Lewis at both screenings!

Both nights show begins at 10pm w/ Dolemite! $9.00 in advance/$10.00 at the door.

The Oaks Theatre
310 Allegheny River Blvd.
Oakmont, PA, 15139
(412) 828-6311

http://www.theoakstheater.com/
http://www.myspace.com/the_oaks_theater
http://www.facebook.com/pages/Oakmont-PA/The-Oaks-Theater/33345667517


for more BDD info and dates check their website: www.blackdevildoll.com

Black Devil Doll Synopsis:

A young, moist, buxom teen vixen finds herself hurled into an odyssey of forbidden sex and unspeakable violence after an innocent evening dabbling in the occult. What started as a simple child's game has now become a fight for her life! What is this evil that she has summoned from beyond? And why does it have a fro? What kind of horrific acts will she be subjected to? And what price will her super-hot, half-nude friends have to pay? But more importantly, how much Caucasian blood will have to be shed to stop....the BLACK DEVIL DOLL?!!

It's Chucky meets Dolemite in this sure-to-offend horror film directed by up-and-coming genre director Jonathan Lewis. Not intended for children. No one under 17 will be admitted!
---
2/4/09
A large amount of updates were done on the site today. The merchandise section has been massively updated and overhauled so take a look at all the RUDY RAY MOORE recordings that are now available along with his films, etc.. Various links throughout the site and the biography have been updated as well. The discography entry for Moore's early comedy album "A Comedian is Born" has been updated along with a new addition with his as yet unreleased singing album, "Let Me Sing To You".
THE BOOK: Work continues on a daily basis for my upcoming look at the life and career of RUDY RAY MOORE. Although seemingly quiet in that area, things are progressing nicely and at a much more rapid pace than in the past. It's been just over 10 years since I started working on this book project but I hope to have a completed manuscript by the end of this year. News will be posted as necessary.
---
11/23/08
Tribute to Rudy Ray Moore in Los Angeles on December 2nd
On Tuesday, December 2nd, the Grindhouse Film Festival in association with Xenon Pictures will present a tribute to the late, great Rudy Ray Moore at LA's New Beverly Cinema. This special event will start with a screening of Moore's iconic film DOLEMITE, followed by the hit sequel THE HUMAN TORNADO. Both films will be projected from original 35mm prints and the evening will also include a reel of rare film trailers and a video tribute to Rudy Ray Moore. As an added bonus, there will be a Q&A between the films with original cast and crew members. Scheduled guests include actors Ernie Hudson and John Kerry, directors Jamaa Fanaka and Ron Hall, cinematographer Nicholas Josef von Sternberg, and producer Foster Corder. Additional guests to be announced. The event starts at 7:30pm, and admission for the two features plus a reel of rare exploitation trailers, a video tribute and our world-famous free raffle is still only $8.00.
For additional information and schedules for upcoming events, visit our MySpace page at www.myspace.com/grindhouse.
ABOUT THE GRINDHOUSE FILM FESTIVAL
The Grindhouse Film Festival events feature the screening of rare 35mm prints of cult and exploitation films from the 1960's through the 1980's, many of which have not been publicly shown since the drive-ins and inner city grindhouse theaters faded away twenty years ago. For the low price of only $8.00, attendees get two feature films, a reel of rare exploitation trailers, a free raffle, and very often appearances by the directors, cast and crew of the films being shown. The event has been held monthly at Los Angeles' New Beverly Cinema since 2002 and is now expanding to other cities for occasional special screenings.
---------------------------------------------------------
Tuesday, December 2nd, 2008 The Grindhouse Film Festival with Xenon Pictures and Grindhouse Releasing present a Tribute to Rudy Ray Moore NEW BEVERLY CINEMA 7165 Beverly Boulevard Los Angeles, CA 90036 (323) 938-4038 Admission: $8.00 Special Guests: Ernie Hudson, Nicholas Josef von Sternberg, Jamaa Fanaka, John Kerry, Foster Corder and Ron Hall
7:30pm DOLEMITE (1975) Directed by D'Urville Martin Starring Rudy Ray Moore, D'Urville Martin, Jerry Jones, Lady Reed and John Kerry
10:00pm THE HUMAN TORNADO (1976) Directed by Cliff Roquemore Starring Rudy Ray Moore, Lady Reed, Jimmy Lynch, Howard Jackson, Ernie Hudson, J.B. Baron, Gloria Delaney, Jerry Jones, Jack Kelly and Jimmy Lynch
---
10/20/08
Rudy Ray Moore. My idol and my friend, may you rest in peace.
(Photo: Rudy on my couch, "looking shocked" reading my old magazine, Shocking Images, 1996.)
(Update: funeral arrangements are
thursday 10/23
Stewart and Calhoun funeral home
529 W. Thornton Street, Akron, Ohio 44307
visitation from 7-8 pm, funeral from 8-9
monday 10/27
Heritage funeral home
508 N Government Way
Spokane, WA 99224
visitation from 4-5 pm, funeral from 5-6
Flowers and condolences can be sent to the family at either address)
It is with great sadness that I report the passing of a true entertainment legend and friend, Rudy Ray Moore, on Sunday, October 19, 2008 due to complications from diabetes. Moore has been a major inspiration and role model in my personal life and the only person that I can honestly describe as an 'idol'. My first contact with Moore came about circa 1992 for an interview in my then magazine, Shocking Images. The two of us remained in steady contact ever since, with a relationship that evolved into the creation of the only website approved of and supported by Moore himself (www.rudyraymoore.com), to my acting as a booking agent for several projects and events, creation of merchandise and much more. This constant contact evolved quickly into a friendship that I will cherish forever and one that showed me who Moore was outside of his career. While he was always more that willing to boast about his career and future projects, he was very guarded about his past and private life. Over the years, I was able to learn a tremendous amount about his life and career via frequent conversations in regards to his biography that I have been working on for several years. There were days when Moore was ecstatic about the project and would be incredibly willing to help and others where he showed no interest in it whatsoever. Moore's career is full of many ups and downs and his moods were sometimes no different. Our frequent contact allowed him to open up on many occasions about his frustrations and bitterness over the success that he (and often I) felt had passed him up. Yet, he was always incredibly excited about whatever current and future project he had brewing. Although a great deal of these proposed ideas and projects never materialized, when Moore was in fact working on something, he was overflowing with excitement and hope that this would be the one that would finally deliver the success he desired so much.
I always thought that "Thank You For Letting Me Be Myself" would be a perfect, yet ironic title for my biography on Moore. Moore would usually close his comedy performances with this line, yet in reality, his beloved ribald and vulgar persona, was just that, a persona. The Rudy Ray Moore that I knew outside of "Dolemite" was always kind, caring, helping and respectable. Moore also cared deeply for his fans and would always make himself available to sign autographs and take pictures. There were so many convention appearances he made where I would continually suggest he charge $20-$25 for a signed photo and why not? Those events are often filled with "celebrities" whose career was over before it even started, yet they charge their fans an arm and a leg for memorabilia. In my eyes, Moore was one of the few people that could rightfully charge that amount. Yet he always refused and would often include a frame along with his 8x10's for less than half of what others were charging. Moore had an unshakable integrity.
Geographic reasons made personal meetings between us a rarity but the times we did spend together are moments I will cherish forever. The last time I saw him unfortunately was just over 4 years ago, having lunch with him while on my honeymoon. He even asked me, "Do you really wanna do this?" on my wedding day. I should have taken Dolemite's not so subtle hint as it would have saved me the hassle of my divorce!
There are a million memories of him over the years:
-discussing our mutual admiration of Bela Lugosi
-his playful disdain for my yearly birthday wishes
-the occasional phone call at the most ungodly late / early hours with Rudy jokingly trying to disguise his voice followed by his audible disappointment when I wasn't fooled
-my joy of being the butt of his jokes at live performances
-the time I told him an original joke and made him break out in laughter
-when he entered my then apartment over a decade ago, saw my cat, immediately said "here kitty kitty" in his boisterous voice which caused the cat to run in fear
my greatest memory is the time he pointed me out during one of his performances, acknowledged me as an associate and close friend and allowed a scrawny, tattooed white boy a chance to instantly seem super cool to all the "brothers" in attendance who were previously giving me looks like I didn't belong anywhere in the audience
I could go on and on. Moore was such a character who had a one of a kind way about him. It's now more important than ever to me that I get my book project completed and published as my way of honoring who he was, his amazing career and hopefully do what I feel is my obligation to him to help keep his name alive and give him the credit that he has deserved and desired for over six decades.
My interest in Moore and his career along with my friendship with him has had a tremendous impact on my life. Thank you so much Rudy for everything and you can be sure that your fans will continue to honor your name and your work for generations to come. You are already missed.
Here's more info on Rudy's passing I received from another of his associates:
"Legendary actor, filmmaker, comedian, singer, Godfather of Rap and King of the Party Records, Rudolph Frank Moore better known as Rudy Ray Moore or Dolemite has left this earthly plane.
A 60 + year veteran of the stage, the first x rated comedian, one of the first African American filmmakers and the third most sampled man in the world, his self made comedy records and films have inspired and influenced generations from a thousand walks of life and a hundred nations.
He had recently finished work on "The Dolemite Explosion" with longtime friend and costar Jimmy Lynch (his first self made film in 30 years), an album of soul ballads called "Let Me Sing To You Before I Drift Away" with his daughter Rusty, and had been Highlighted by Hadji in an episode of "Somebodies" and was looking forward to a resurgence and a country album.
After a long battle with diabetes and obscurity, he passed peacefully on Sunday at the age of 81.
He was a good God fearing man who loved his friends and family."
More info can be found here.
---
8/29/07


It is finally coming. Watch the trailer for THE DOLEMITE EXPLOSION above. More news soon!
4/7/07
The Dolemite Explosion will be having its world premiere (with Rudy Ray Moore in attendance) in Seattle on Friday, April 27th at 9:00 in the Royal Esquire Club as part of the Langston Hughes African American Film Festival. Click here for more info!
Here's a fight scene clip from Youtube.
---
3/1/07

---
12/20/06
In regards to the recent Michael Richards' racial slur tyraid, Moore has this to say:
"I would like to send a message to everyone regarding the N word I can remember when I myself, Rudy Ray Moore, used to use that word. In the days it was quite popular, we used it towards each other all the time. As time passed though, I felt it to be more and more of an embarrasment. I stopped using it, I was one of the fore runners, and my act never suffered one bit. I convinced the late great Richard Pryor to abandon it's use and came behind him and applauded him publicly when he did. Paul Mooney has recently announced that he will no longer use it either. I commend him for it and wish to call on everyone else to follow.
With Love,
Rudy Ray Moore aka Dolemite"

10/7/06
Check out my review for the new CD THE BEST OF RUDY RAY MOORE & FRIENDS.
10/4/06
Rudy Ray Moore interview posted at Allhiphop.com
10/1/06
We were experiencing site issues but we are back up and updated. Check out the list of Moore's upcoming appearances and if they are in your area, be sure not to miss them. Also, when I spoke with him yesterday he was in high spirits and feeling much better. After his recent stay in the hospital, Moore is rebuilding his strength and literally getting back on his feet. Moore stated that THE DOLEMITE EXPLOSION has finally been completed, once we have release details it will be posted here. Please do not contact us asking for further information since I have none... your email will not be answered.
Moore recently made a great guest appearance on the animated Canadian show, SONS OF BUTCHER as a fortune teller in the episode 'Readin' the bowl'. Since it only airs in Canada, I had yet to see a full episode but found the shows mixture of cheesy metal, toilet humor (literally in this specific episode), idiocy and animation techniques to be pretty funny. Moore will also appear again in a future episode this season and we will post when that info is available. For more information on the show check out their website and here's some images of Rudy from the episode:
Moore also made a recent appearance in the independent film, A STUPID MOVIE FOR JERKS which is being completed now. Check the link for more information. Here's two photos of Rudy in the film:
| | |
| --- | --- |
| | |
| Poster promoting Rudy's appearance in the film. | Jason Sheinkopf, Moore and Mike Sarti on the set. |
7/5/06
Check out these interview clips of Moore from 1996!
Read another press release regarding Moore's recent hospitalization.
7/3/06
As you may have heard Rudy Ray Moore was hospitalized recently. Not the type to stay down, he is doing well and wishes to invite everyone to a screening of Petey Wheatstraw at the Steve Allen Theater in Los Angeles on July 15th where he will be meeting and greeting his fans.
Here's another article on the DOLEMITE soundtrack release!
6/29/06
Check out this great article on the Dolemite soundtrack reissue from the Philadelphia Inquirer.
6/27/06

OFFICIAL DOLEMITE SOUNDTRACK REISSUE AVAILABLE TO ORDER NOW! Available 6/27/06! Exclusive bonus tracks from the HUMAN TORNADO! RARE radio ads for the films and extensive liner notes with never before seen behind the scenes photos!!! AVAILABLE NOW! Check the merchandise section to order.
Read the LA Times article on the soundtrack's release here.

6/20/06
Some of you may have heard that Rudy Ray Moore was hospitalized recently. Moore was in fact very ill, but is now much better and heading home to get some rest. His spirits are high and he is excited about getting back on stage. More news soon.
6/3/06
PETEY WHEATSTRAW: THE DEVIL'S SON IN LAW screening in Los Angeles, July 15, 2006 at the Steve Allen Theater. Rudy Ray Moore will be appearing for a Q&A session after the film. Don't miss it!
5/10/06
New appearance information!
4/23/06

DOLEMITE SOUNDTRACK OFFICIAL CD REISSUE COMING 6/27/06!!
Relapse Records is proud to present the complete soundtrack to the legendary 'blaxploitation' film classic DOLEMITE. In the mid 1970's, the world's first and greatest X-rated comedian, Rudy Ray Moore, took his popular character "Dolemite" from vinyl to film and created a massive smash hit. Having now sold millions of copies on home video, Rudy Ray Moore and "Dolemite" have achieved legendary status and are an admitted influence on popular artists including Eddie Murphy, Dr. Dre, Snoop Dog, The Beastie Boys, Robert Townsend, Ol' Dirty Bastard and hundreds more. Moore's fan base continues to grow, spanning all genders, races and ages.
While original vinyl pressings fetch high prices in collector's circles, fans can now experience for the first time ever on CD, the wild and funky sounds of the film, which also features the recording debut of multi Grammy Award winning artist, James Ingram ("Just Once", "Yah Mo Be There", etc.). Also included are rare and exclusive bonus tracks including songs from the film's sequel, THE HUMAN TORNADO and an extensive 28 page booklet with never before seen 'behind the scenes' photos and extensive liner notes on the film and Moore's career written by biographer, Mark Jason Murray. A gatefold vinyl version limited to 1,000 copies will also be released.
You will not want to miss this amazing release! A must for Dolemite and 'blaxploitation' soundtrack fans!
---
4/12/06
It's been a bit since we did an update but that doesn't mean things aren't happening. We will be posting information shortly on an exciting CD reissue coming in June.
The latest issue of CARBON 14 has a good interview with Moore, except it features a large amount of errors in it's transcription. "Dawson's of Hollywood" should be Dolphin's of Hollywood, "the Baharras" should be the Bihari's. "Ted Vincent" should be "Ted Brinson", Dolemite is spelled "Dolomite" and "Dolemite" within the same sentence, etc.
The long running Fox Network show "MadTV" loved Dolemite and produced a couple hilarious parodies. Watch this good shit!
---
10/22/05
Rudy's new vocal CD "Let Me Sing To You" is complete and will be available soon. Over ten tracks of Moore's carmel coated voice belting out soulful hip-hop style tunes including several classics:
Drift Away (Dobie Grey classic)
For Your Precious Love (Otis Redding classic)
Breakin' up Somebody's Home (Patty Griffin)
Bring it on Home To Me (Sam Cooke classic)
Zebalou
The Ghetto (Elvis Presley classic)
Cocaine Turn your back on Crack
My Day Has Arrived (based on his classic routine)
Signifying Monkey (one of the all-time greatest "toasts")
Drift Away (sax instrumental)
Love is Strange (featuring "Rusty") (Mikey and Sylvia)
Dolemite Explosion (also the theme for the new film)
Moore makes a cameo in the film VAMPIRE ASSASSIN as well as a micro-cameo in the fan film DRUNKEN DEAD GUY. Check them out. In other film releated news, Moore has agreed to shoot a cameo appearance sometime in early 2006 for the film FAT CATS. The movie looks cool as hell, so check out the site. The film will also be absolutely loaded with other cool celebrity cameos. More news on this one next year.
---
8/7/05
Being There Magazine features an article on Moore in it's latest issue. Click here.
---
7/17/05
Rudy states he still is working to get one more scene edited into his new film THE DOLEMITE EXPLOSION, which should finally be completed soon. Of course, we will have full details on the films completion and screenings once completed.
Moore's new CD, "Let Me Sing To You" is being mastered and prepared for release. Once available you can purchase copies direct from the website.
---
1/7/05
Happy New Year! We hope everyone had a wonderful holiday season and we look forward to what this new year has in store!
Coming January 11th is the DVD release of LIL' PIMP, the animated story of a 9 year old boy who becomes a pimp! Voices for the project are provided by Bernie Mac, William Shatner, Lil' Kim, Ludacris, and Rudy Ray Moore in the role of Mr. Slippers. Click here for a clip featuring Moore's character. Order it in our merchandise section!
Moore also has a cameo appearance in IT CAME FROM TRAFALGAR that is scheduled to be completed by mid-year. Click here for pictures from the film which features several cult figures among it's cast.
11/30/04
Rudy Ray Moore just told me he will be appearing at the PLAYERS BALL in Chicago on December 3 & 4. Then he is off to the Players Ball in Birmingham, Alabama on December 10th. He will stop off in Cleveland to try and complete the mixing of his upcoming CD 'Let me Sing to You' to be released early 2005 and end the month with a New Year's Eve bash in Houston, TX. Hopefully we can get full details up here.
THE DOLEMITE EXPLOSION has been completed and Rudy is now happy with the results. Watch for release news on this at the beginning of next year. Moore also has plans for a new stand up video release utilizing footage from his August appearances at the COMEDY CARAVAN. More news on that will become available when we have it.
Moore has a cameo in the film WATERMELON HEIST from Maverick Home Video, which will be available on 12/7. Check our merchandise section for ordering links.
Moore's appearance at Chiller Theatre was a success. Jimmy Lynch joined him there and their shows together in Texas the following week went great as well.
ENTERTAINMENT WEEKLY (Nov. 5, 2004, #791, page 63) featured a sidebar asking film critic, Dalton Ross, what films he would like to provide a DVD commentary track for. Ross replied, "Give me one of cinema's more curious entries, like the bizarre blaxploitation sequel, THE HUMAN TORNADO which features some of the oddest kung fu sequences ever put on film. I'm not sure I could explain the random use of instant replay, or why, in the middle of a sex scene, star Rudy Ray Moore is suddenly shown eating ribs - but man, would I love to try." Let's hope he never gets the chance since he is obviously not smart enough to understand the off-the-wall humor of the "instant replay" scene or the "eating out" metaphor in the sex scene. Regardless of his lack of understanding of the film, this was a great little bit of major exposure for the films of Moore to an audience not likely to be familiar with them.
9/21/04
Click here for more info on the career of "Wildman" Steve Gallon.

9/4/04

I recently was informed of the unfortunate passing of Rudy Ray Moore's friend and fellow comedian, "Wildman" Steve Gallon. Gallon was a emcee, stand-up comic, and disc jockey. Having released several comedy albums of his own, Wildman later appeared in Moore's film, PETEY WHEATSTRAW and also made two films of his own, SUPER SOUL BROTHER and GUY FROM HARLEM. He often appeared live along with Moore and LaWanda Page in the "Watch It Sucka" comedy revue. Gallon's material was featured (along with Moore's) on the video, DEF COMEDY JAM: 2 RAW 4 TV. I had the great pleasure of speaking with Wildman Steve in June of 2001 about his comedy career and involvement in Moore's film. I would like to give my best to the friends and family of the "wi-hi-hi-hi-hildman"!
8/31/04

In other news: GODS IN POLYESTER: or, a survivors' account of 70's cinema obscura by Suzanne Donahue & Mikael Sovijarvi. Succubus Press, 456 pages.

GODS IN POLYESTER is an essential read for anyone interested in 70's exploitation films. This massive undertaking transcribes various accounts from 40 actors and directors on everything from horror, action, blaxploitation and even Spaghetti Westerns. And while it could have come off as a multitude of long, boring individual interviews, the book's authors opted for a more personal and highly enjoyable format. An introduction to each year of the 70's sums up world events to give a nice idea of what the social climate of the times were. What follows are each individual's personal thoughts and recollections pertaining to the film they worked on during that year. The simplistic layout makes this both a casual and highly entertaining read as hundreds of movies and individuals are discussed. But as a whole, this book is a testament to low-budget filmmaking and those individuals who lived the trials and tribulations of the genre first hand. Also included are biographies / filmographies of all those included, indexes by name or film, a small dvd guide, an interesting "family tree, websites and more. This thing is huge and would make a great coffee table book. Printed on slick paper and loaded with b&w photos, it weighs in at over 5 pounds! Anyone with even a remote interested in 70's films should pick this up! You can order it from our partners at FAB PRESS. The book is also available through HEADPRESS, AMERICAN BOOK CENTER, CHAINSAW VIDEO, and FORBIDDEN PLANET.
8/22/04
Moore's appearances on August 6 & 7, at the COMEDY CARAVAN in Kentucky were a huge success. All of his shows were sold out and Moore had a great time stating this was one of the best receptions / appearances he has had in some time. The shows were recorded for a possible live CD release if Moore is satisfied with the recording.
His in-store appearance at WILD & WOOLY VIDEO went great as well. Moore was happy to see people lined up to see him even before he got to the store. Photos from the event are available here.
Prior to those appearances, Moore was in Indiana to shoot a few scenes for the upcoming Sci-fi B-movie, IT CAME FROM TRAFALGAR. Moore plays a bounty hunter named 'Dangerous Dan'. We hope to have pictures from the shoot available soon.
Moore is still working to get the final edit done on his new film, THE DOLEMITE EXPLOSION. Once a premier date is finalized, we will let you know.
Currently, Moore is mixing his new singing album, LET ME SING TO YOU, to be released at the end of the year.
7/25/04
Please be sure and join the emailing list to be kept up to date on news regarding this site and Rudy Ray Moore. And please be sure and tell your friends.
Moore recently changed the ending of RETURN OF DOLEMITE and has since retitled the film THE DOLEMITE EXPLOSION. Stating his dissatisfaction with the original ending he got the cast back together for a reshoot stating that the approx. 7 min. new ending sequence is nothing but solid action. His plans are for a limited theatrical release during the end of the year and the eventual availability on home video.
2/8/04
The current issue (#230) of horror magazine, FANGORIA has a two page spread covering Moore's film, PETEY WHEATSTRAW.
Moore recently made a cameo appearance in a new video by Cobra Verde. Click here to check out their site to watch the video and for more info.
Several years back around the mid-90's Moore was involved with a cd-rom video game project entitled DUELIN' FIREMEN. Finally, it seems that something is starting to materialize with that and you can take a look at the website www.duelinfiremen.com and check out a video clip from the project featuring Moore.
Contrary to various reports, there will NOT be a remake of DOLEMITE. That comes right from Rudy's mouth.